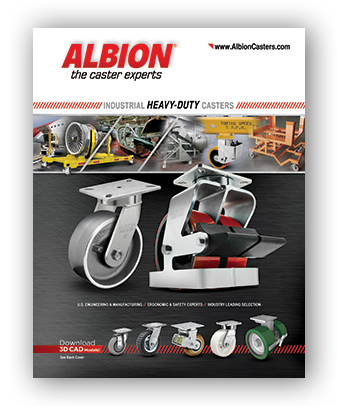 Catalog marks launch of newly-redesigned USA Made 310 & 410 Kingpinless Series casters
ST. JOSEPH, Michigan – October 10, 2016 | Albion, the leading heavy-duty caster brand of Colson Group USA, has just published its newest full-line catalog, which features a portfolio of over 60 unique product series designed to handle even the most challenging of applications. The catalog, which includes an industry-leading offering of industrial casters and wheels along with cutting-edge custom designs and expert advice, is available in PDF and enhanced eCatalog formats. Hard copies of the catalog can also be ordered.
The refreshed Albion catalog offers engineers, designers and purchasing agents a comprehensive and detailed professional reference library of heavy-duty and material handling caster solutions and specifications. There are helpful icons designating key features and applications and a visual table of contents for easy viewing. The interactive online version of the catalog provides quick page links and is mobile ready. The new catalog also includes the addition of new maintenance free and stainless steel sections as well as expanded spring loaded and dual wheel sections featuring a variety of new series.
"For more than 70 years the Albion brand has been a problem-solver to industry mobility challenges for customers worldwide," said Colson Group USA Director of Marketing and Communications Brad Kish. "We believe that this new Albion catalog, with an improved and expanded portfolio including new products such as our USA-made 310 & 410 Kingpinless Series casters, is a reflection of that ongoing commitment."
The release of the Albion Catalog marks the official launch of the company's newly-redesigned 310 & 410 Kingpinless Series casters, which are now built in Colson Group's two Michigan manufacturing plants following a series of advanced manufacturing investments. The new designs are laser cut and feature a variety of product improvements, including: new innovative brakes and toe guards, weld eliminations for a stronger more integrated part, smoother edges, industry leading zinc finish with clear coat, and thicker 3/8" AISI 1045 heat treated steel leg construction – all backed by an upgraded three-year warranty.
To request your new Albion catalog and start utilizing the online version today, click here.
---
About Albion
As material handling and heavy-duty experts for over 70 years, Albion's proven mobility solutions are capable of the most challenging applications. From the largest offering of industrial casters and wheels handling over 30,000 lbs. per caster, to cutting-edge custom designs – Albion's experience and technology ensure that every solution meets the performance and safety requirements unique to each customers' needs. For more information, visit albioncasters.com.
About Colson Group USA
Colson Group USA is a subsidiary of Colson Group, the largest global manufacturer and supplier of caster, wheel and mobility solutions. For over 350 combined years, the drive and experience of Colson innovators have led to some of the most trusted and advanced mobility solutions in the world, including some of the most renowned brands: Colson, Albion, Shepherd, Jarvis, MedCaster, Pemco, Faultless and Bassick. Colson Group's products and solutions are backed by its unmatched customer service and supply chain optimization strategies. For more information, visit colsongroupusa.com.