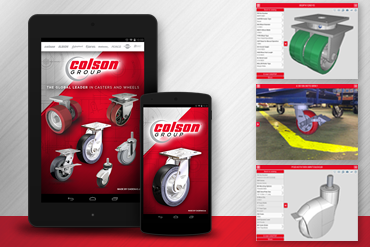 Approximately one year after the launch of the industry's first caster model app, Colson Group USA is pleased to announce that Caster CAD 3D is now available for Android devices. The updated app allows users across multiple mobile platforms to explore Colson Group's interactive 3D caster catalogs 'on-the-go'. App users can quickly configure a part number and download or deliver CAD models and datasheets to anyone with an email address.
"We have had great success with Caster CAD 3D," said Brad Kish, Director of Marketing/Communications. "Our customers have been asking for an Android version since its original launch, and we are now happy to deliver on this request. The Android app features the same great functionality as our iOS app, allowing fast delivery of great caster content—including 2D/3D CAD models and our very popular interactive 3D PDF datasheets. It is the content our customers need to allow them to walk away with all the pertinent specifications and allow easy integration into their designs. We have received tremendous feedback on how it is saving many of our customers' time, and ensuring that they have a viable and trusted product specified."
The benefits of Caster CAD 3D are:
Downloadable 2D or 3D CAD models are completely free and in a user's native CAD format
Interactive models can be easily configured for user-specific needs
Interactive 3D PDF datasheets give you all pertinent specifications and a 2D drawing
World-View allows visualization of a model on physical products
Models, visualizations, and data sheets can be quickly shared with teams
The 3D CAD Models are compliant with major world standards and are suitable for use in current CAD systems. Caster CAD 3D is a free app and is now available on Google Play and the App Store.